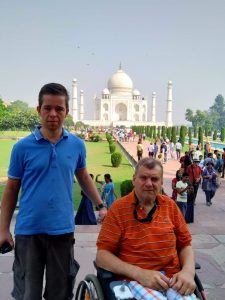 I am Marc de Vries (58 years old) and from my birth I am spastic and my acquaintance Hugo van Asch (35 years old) is also spastic. Together with our driver Rattan we have made a tour. I (Marc) had an foldable electric wheelchair with me. The wheelchair could be disassembled and put into the car.
We started in New Delhi where we have visited the highlight of this metropolis.
After New Delhi our tour through Rajasthan (north India) really started with visiting the following places: Jhunjhunu / Mandawa, Bikaner, Jodhpur, Pushkar, Jaipur, Agra, Haridwar and Rishikesh.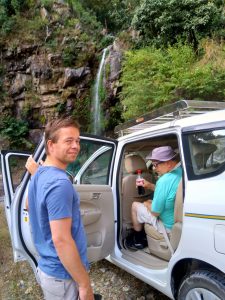 During this tour we have visited beautiful places. We have admired the real India with all his special rituals such as different temples and fortresses. Also a ride with a rickshaw and a camel ride should certainly not be missing here. A visit to one of the seven wonders of the world, the Taj Mahal, is something which we can now tick off.
Because we both are physically disabled, we have done more activities by car and that went really well. Every time Rattan discussed with us and gave us some tips.
As a consequence we have changed our route, so that we had more time to really visited all the places. Day by day we have looked at all the things that we wanted to visit and what our possibilities where in that. The helpfulness of Rattan in this was very great. Not only his accessibility but also his help at all the places that we have visited.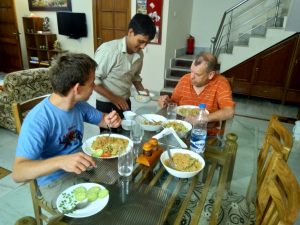 The culture shock was much greater for Hugo then it was for me (Marc). I have more often visited countries such as India. The driving style there is different from that in the Netherlands. You have to get used to the noises at the amount of people. Driving with the wheelchair or walking with the wheelchair was a big challenge for us.
In the 2,5 weeks that we have been there, we have seen and experienced a lot of the beautiful India. It was a great experience!
The last few days of our tour we have stayed in Rishikesh, where we have made a couple of beautiful mountain rides.
On behalf of Hugo van Asch and Marc de Vries.