During our preparation of our journey to India, we visited the website India Individueel and decided to travel by car and a private driver. The mail conversation with Rob was quick and clear.
Six weeks long and having never travelled otherwise then with public transport, it was quite a gamble for us.
It turned out to be a very good gamble, we would do it again. It had a lot of advantages. We visited places that were difficult to reach and the route we had in mind could easily be changed in consultation. Everything had to do with the fact that we had Ajay as our driver.
After we were picked up at the airport, we had some coffee as a welcome and we went through the route for the coming weeks.
As a gesture of welcome, Ajay offered us an afternoon of sightseeing of Delhi. On the advice of Ajay, with a clear motivation, we overturned our route directly. It was a golden hint.
In the hectic of Delhi it immediately become clear that Ajay was a very focused and careful driver. That gave us confidence. During the six weeks we felt completely safe with him in the car through the crazy traffic of India.
He did not take unnecessary risks and had a clear overview.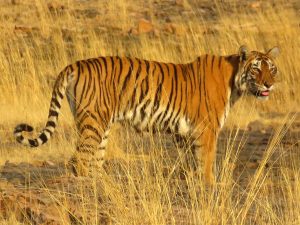 He was a very pleasant person, had a good sense of humour and could also be very serious. He had an answer for every question, was open minded with a clear own opinion and loved to eat mint flavoured sweets.
In first instance, the advice was to leave the overnight stays to the driver. On this matter we had different ideas, so we decided to take it in our own hands. Our preference for overnight stays is very simple and small-scale.
To describe six weeks is not easy. Our preference is with nature. Ajay anticipated very well on that, but of course we also enjoyed culture. We travelled with all kinds of detours from Khuri to Rishikesh and from Mount Abu to Delhi. It were a lot of different impressions to process.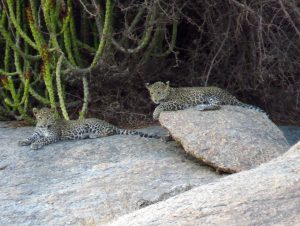 We were lucky considering that the highlights for us were the 2 Bengal tigers in Ranthambore NP, the leopard with 2 cubs and the Indian Rock python in Bharatpur. But also the Taj Mahal, the temple of the rats near Deshnoke, Pushkar and the ceremonies in Haridwar were some moments that we definitely did not want to miss.
We look back at a special holiday in India. A land with a lot of colour, noise, dirtiness and poverty, but besides that also a beautiful culture and a particularly beautiful nature. Definitely worth visiting!