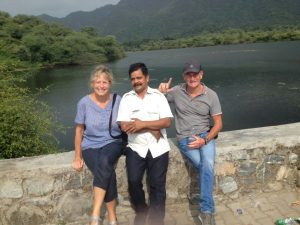 In August 2017 we have made a wonderful trip to India. We have travelled through India for four weeks. We have stayed in Delhi and Rajasthan for 11 days, and in Ladakh and Kashmir around 14 days.
Since I have made a trip to India a long time ago, my memories of India where coloured by: overcrowded, busy, poor and dirty. Jeannette really wanted to go to India also to visit a friend of hers who works a volunteer in Ladakh. I want to go with her, but on the condition that we had our "own" transport. So that is why we came out on the website of India Individueel.
Via Rob we have contacted Rattan, so that he could be our driver for 11 days. On the first day in the afternoon Rattan picked us up at our hotel in Old Delhi. Rattan could really helped us during the sight-seeing tour through Delhi. Because of the "independence day" that was coming, some of the places that we wanted to visit were closed. One of them was the famous Red Fort. Together with Rattan we have decided which places were possible to visit. Those were the Mausoleum, India Gate, Temple of Lotus and a beautiful garden. Not only were a lot of places of interest closed, a big part of the roads in Delhi were also blocked. Immediately we experienced that Rattan was a very skilled driver in the very chaotic traffic of Delhi.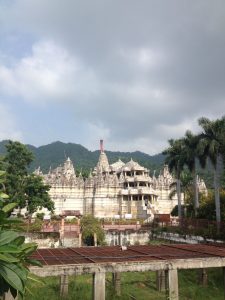 Rattan his English is very good and you noticed that he is used to deal with (European) travellers. During the conversation he is trying to get what you really wanted to see. If there is something that is not so interesting or something which takes a lot of time, he is honest to say it to you and to give an alternative. Because Rattan already travels a lot of time with guests, he also knows some non-touristic places. We really appreciated that. We are not that kind of persons who really wanted to see the top 10 of the most touristic places in India. When we discussed our travel plans for Rajasthan with Rattan this came forward. Based on travel information and the internet we thought about visiting the following places: Mandawa, Bikaner, Pushkar, Bundi and Jaipur. The first thing Rattan asked us was: "what about visiting Agra? Didn't you want to visit one of the seven world wonders? Everybody is going there!"
Our explanation that we found it too busy and too massive and that there is probably so much more to see was not immediately convincing. During our first travel day we had some conversions about that and that we also wanted to see how the people live in India by visiting markets and small cities and also enjoying the nature. When it became clear that we wanted to make use of Rattan's expertise during our journey, finally a beautiful route came out. Besides visiting some touristic places we also visited some less obvious places. In Bikaner we wanted to skip our visit to the Karni Mata Mandir, or the so called temple of the rat. Rattan tried to convince us that if we really wanted to see India that this was also very impressive. We have put our timidity a side and did visited the temple of the rat, an important Hindu temple were blessed food were given to the rat. A really special experience.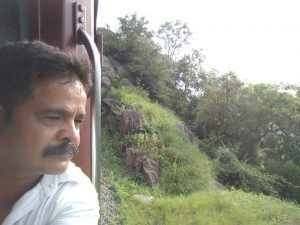 In Ranakpur we visited a beautiful Jaina temple entirely made out of marble. Fascinating! On our way to Udaipur we took a route through the inland specifically because of the beautiful landscape. So each time our route got his extras.
Some of our hotels were arranged before we came to India, but because we had a flexible travel programme some of them were not. Most of the time Rattan found very neat and clean hotels. In Udaipur he found a beautiful hotel for us. During our journey the relation between us and Rattan got better and better. Rattan did understand that we appreciate his choices. One day he came to us to ask if it was ok to arrange a "secret day". That would be something  special, totally not touristic. It was a total surprise for us. The highlight of his surprise was a journey by train. In a completely remote area, ran a railway through a wonderful mountain scenery where the train went up in a kind of spiral. When you were sitting in the rear wagon you had the best view. It was a local train in which we were the only non-Indians, something which was also a wonderful experience.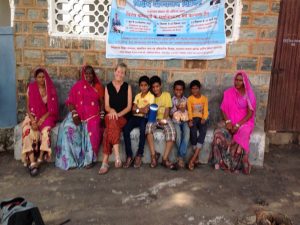 On our last day of our journey we were very friendly welcomed at Rattan's house by his wife and his children and together we enjoyed our fantastic meal.
By choosing to travel with Rattan as the driver you get to know parts of India in an interesting way. Certainly if you indicate that you want to see more than the normal monuments, than Rattan knows how to do that. Rattan is an honest and happy person, in for a joke but also someone with whom you can talk about serious issue like religion, poverty, pollution or politics. It were 11 fantastic days together with Rattan. Thanks to this trip, I myself have to adjust my image of India. My image has changed in a positive way so that we definitely want to come back to this beautiful country!
Many thanks to Rattan!!