Shekhawati, a special area full of havelis. Together with friend Hans and driver Ajay, we have travelled through this area for a week. Before that Hans and I have made a journey through Bhutan. Shekhawati is located in Rajasthan, between New Delhi and Bikaner. It is a less touristic part of India, but very interesting if you love beautiful old buildings which are in this case painted mansions or even "palaces". You can stay for one night in a hotel together with a breakfast for around 30 euros for two persons!
The havelis dated back from the peak period in trading between Bombay, Delhi and other places. It is a rural atmosphere and the gleaming is overwhelming. If you wanted to see a special part of India, solely or as part of a bigger journey, than this area is a good choose. Our driver Ajay made our trip very relaxed and we also had nice conversations during the ride. We really enjoyed the food. Places of interest where Mandawa, Fathepur (not to be confused with Fathepur Sikri near Agra) and Nawalgarh. We were sleeping in the Mandawa heritage haveli, wonderful!!!!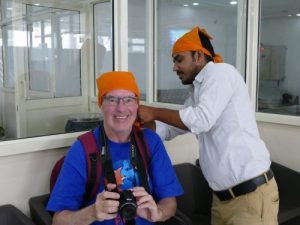 We have also enjoyed visiting Bikaner and the temple of the rat in Deshnok, a 30 minute drive from Bikaner. Bikaner itself has an impressive fort.
On our way back to Dehli we have also visited a fascinating temple in Jhunjhunu.
All in all a journey of just one week, after our tour through Bhutan (with another organisation).
After visiting India for 6 times, Shekhawati was a good addiction. In Delhi there is always something to see. Magnificent was our beautiful hotel, in the Old Town district, hotel Tashkent (neat, good breakfast, in a quiet street, a lot of warm water, wifi, and just a few minutes' walk from rooftop restaurant Excotic (a must)). For 5 euros per person you can eat and drink a bottle of beer there and have a view on what is happening on the street. We have paid 9 euros per person for a double room in the hotel.