Petra and Cees:
Due to circumstances, we have travelled two days later to New Delhi. Because we only had two days to come to Shimla to meet our traveling companions, we were a bit in a hurry to arrange our transportation from Delhi to Shimla. After having been in contact with Rob, our transfer in India was arranged within one and a half hour!
At the airport Sunil, our driver was waiting for us. After a long but nice ride, we arrived in Shimla. Sunil is a good driver who drives safely. During our ride he told us stories about India, about the people and about the beautiful Indian culture. From Shimla, we have travelled together with driver Satender and trainee Heera. Heera is an enthusiastic and happy guy who clearly loves his job. When we make our next journey to India we hope we will meet all of them again.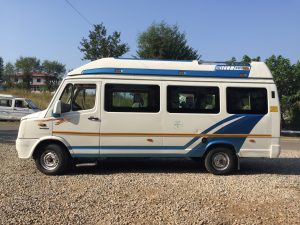 Ineke en Kees:
We had a really nice holiday! The Tempo Traveller was a good means of transport. It had good chairs in it and there was a lot of space. Satender is a good driver and a calm and sympathetic man. We have all felt for the charms of Heera. What a darling he is. Heera will be there! He is really good with people, he wants to do everything and is curious. What a sweet guy!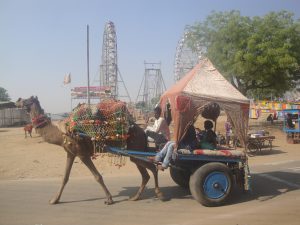 On our way to Dharmsala we have stopped at a kind of amusement park and have eaten there. We have made a walk through the park together with Heera and visited a camel (or dromedary). Heera immediately stood on the stairs and he tried to snog the muzzled camel. At that moment I was thinking 'you could see that he is used to camels'. But then Heera said that it was his first time being so close to a camel. You did not realise that it was a touristic trip for him too.
In Dharmsala we have visited the Animal Shelter where Mirjam (daughter of Kees) was working at that moment. We should go there by taxi. The day before we wanted to go, Kees asked Heera if he wants to join us. Heera was enthusiastic. Then we asked Satender if he liked it and he also wanted to join us. So we cancelled the taxi and have travelled to the Animal Shelter with the Tempo Traveller.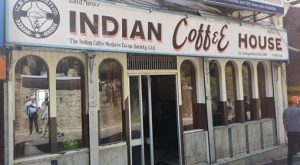 When we were at the Shelter, Heera was impressed and clearly felt himself comfortable surrounded by dogs. From the beginning onwards, he had his favourite dog named Rosie. He also want to join first the guided tour and later on the video briefing. I think Satender was joining us more out of courtesy. Quickly he cut off. When we were leaving Heera shook hands with the people of the shelter and he said thanks to them for all the good work that they were doing. That was very nice from him. I myself am not a person who likes shelters and I like dogs when they are on the belt and at a distance from me.
In Shimla, Petra and Cees where already there. Shimla is a beautiful city. Indian Coffee House is fantastic. When you want to visit Shimla you really have to go to that place. Beautiful old men are sitting there. Some kind of faded glory, but it once had to be a great property.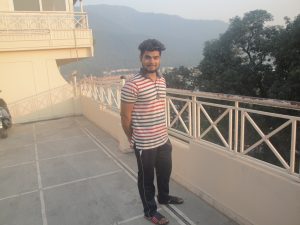 Then we have visited Rishikesh. Heera has joined us on the boattrip to the other side of the lake and he found it amazing. He trew us wet (well to be honest, it was more sprinkled) with the holly water. For Cees Heera has visited the Ashram of the Beatles and took some pictures there. Petra and Cees have been to the Arti that evening together with Heera.
I think Heera himself did like the journey as well, but for us it was pleasant to have him with us. If I have to score his internship I think I will rate it with a 9.