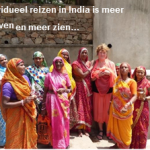 We were in India in July 2015. We wanted to make a journey with a driver and a guide on our own. After some searching we came across the website www.indiaindividueel.nl and on it were some good reviews. We can only say that we endorse the recommendations in the reviews. We have been travelling for almost three weeks with Rattan Singh and his "second wife", as he called his car that escorts and brings him and his guests through all of India.
Peter and Yvonne Mulder from Edam, The Netherlands p.mulder@ma–web.nl
Our itinerary in beautiful India
We made a thorough itinerary, completely through the Internet. Flying to Delhi, one day to acclimatize, Jaipur, Agra, Gwalior, Khajuraho, Varanasi and go back from there to Delhi for two days of rest. We booked all of our hotels ourselves via Booking.com. We agreed on a price with Rob Pijpers, manager and organizer of IndiaIndividueel.nl and off we went.
Arrival in Delhi
We flew to Brussels with KLM and to Delhi with Jet Airways, booked via TIX (cheapest offer). The facilities with this airline were fine, we had spacious seats and free refreshments (unlimited). It was rather cold aboard during the flight, so taking a cardigan was a good idea. Arriving in Delhi means a lot of passport checks!
After the baggage claim we entered Delhi's entrance hall where Rattan was standing with a sign "Welcome to India, Peter and Yvonne Mulder". As said earlier we had booked our own hotel via booking.com, so Rattan brought us there. The hotel was a terrible disappointment. Dirty, smelly, old, terrible beds, and so on. We were tired and spent on travelling so after we had a beer we went to bed. We checked out the following morning and asked Rattan to find us another hotel. That was a fine hotel for approx 30 euros a night. We booked it immediately for our return trip to Delhi on the final two days as well.

The itinerary
Planning a trip trough the Internet has advantages, but as many disadvantages. The confrontation with India demanded more from us than we had anticipated for. Internet performances of the hotels and cities show only the best side of things (everyone knows that but everyone falls for it as well). Like the hotel we booked ourselves which looked beautiful on the Internet, but turned out horrible in reality. That is why we decided to adjust our itinerary with Rattan's help; he did not make any decisions for us, but asked us what we wanted. We cancelled all our hotel reservations and adjusted the journey as well. Despite our former travels through Asia, India turned out to be a country in which a tourist has to learn the hard way. We were not in the mood for that at all, because we were on holiday and we wanted to travel without all kinds of setbacks or other dampers. We told him what we wanted and we made adjustments to our itinerary in consultation with Rattan. What a great idea!
Rattan Singh, driver, guide and travelling companion
In India a lot of people speak English, but most of them have an unintelligible and sloppy pronunciation. Rattan speaks English very clearly and that is why the communication between us was really good. Rattan is a cheerful man, a competent driver (we never felt insecure in the chaos on the roads of any city) and a good talker. He tunes in well with his guests, is very reliable (!) and he keeps an appropriate distance for privacy. He is serving without being subservient, a comedian and he has a hawk's eye (he sees everything). We are very grateful to him for his advice, conversations, care, humour and candour.
Tips for travelling on your own
Ask your driver/guide for advice. They won't tell anything of their own accord (serving), unless it is absolutely necessary. We wished not only to see historical buildings, but also the scenery and the people. You have to be clear.
Hotels that are too cheap often have problems that are too big, like bed bugs, no air conditioning, dirty rooms and environment, inaccessible by car. Between 25 and 50 euros should be good. Your driver will know the best hotels for the best prices, and will negotiate for you.
Ask your driver how many nights is pleasant to stay in a town. We had planned e.g. three nights Agra, after one night (visiting the Taj Mahal) we were happy to be leaving, like Rattan advised us to.
Travelling on your own in India
Motorways in India are very chaotic and full of big potholes. There are people and animals (buffaloes, cows, dogs, goats, donkeys, and so on). Sometimes you can go three miles per hour and sometimes 50. The average speed was 25 m/h. Covering great distances is really exhausting, but exciting and beautiful.
Drivers are from the lower castes, as it is in India, and do not always feel at ease when invited for meals on the way; the waiters are not always that nice to them. So do not insist if they politely refuse your invitation.
Drink three litres of mineral water a day and use ORS (Oral Rehydration Salts) every day. You will be dehydrated before you know it; one bottle of Coke a day is very purifying for the gastrointestinal tract. Rattan gave us this advice and we haven't become ill.
Take wet disposable cloths (with alcohol) with you to use on the lavatories.
Only eat out in a local establishment if your driver thinks it is an appropriate place. Inappropriate snack bars are often unable to keep their food cool.
There are many ATM's in India, and many of them are empty as well. 2x 10,000 rupees can be taken out a time, which is 2x 145 euros.
India is dirty, but her beauty cannot be surpassed. We have had a great deal of pleasure. Thank you Rob and Rattan!