'By accident' we travelled in a group with Rattan & Co-drivers through Rajasthan and Agra in March (see: Johan & friends with Rattan & co, March 2014). We liked the journey and local culture so much that we decided to visit other parts of India in October. Because Anil was our driver in March, Anil and myself partly developed our October-trip that was prepared by Rob and we adapted it along the way as one should with a real 'road trip'. A fun and pleasant adventure with very local contacts as well as a visit to Anil's family in Northern India.
We met Rattan twice along the way; in Khajuraho (town with more than 20 erotic temples) and in Delhi. We celebrated Holi in Jaipur with the local population in March. During our October trip we celebrated the Dussehra festival in Orchha and three days of the Diwali festival (festival of lights) with Anil's family and neighbours in Delhi.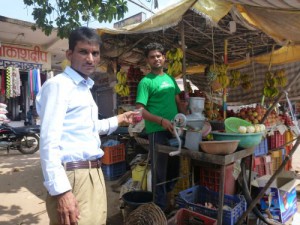 Now our almost a month's journey went through five districts;
Haryana (Delhi), Uttar Pradesh (Mathura, Agra), Rajasthan, Madhya Pradesh (Orchha, Khajuraho, Chitrakoot) back to Uttar Pradesh (Allahbad, Varanasi, Sarnath, Lucknow) and Uttaranchal with views on the Himalayas (Nainital, Kausani, Ranikhet, Corbett National Park, visit Anil's family in the mountains, Haridwar en Rishikesh) to finish in Delhi (New Delhi, CP and surrounding area) with three days of Diwali festivities. For the first time in his life Anil travelled through five districts in one and the same journey.
An unforgettable, beautiful, pleasant adventurous trip through Central and North India and good food every day in an alternating scenery of:
– cities with temples (erotic temples IN and alongside rivers, temples with cableways, a temple with thirteen floors, temples with monkeys, forts and mahals , …
– cities with boat trips on holy rivers with religious rites and customs,
– free and wild nature with indigenous animals free in nature and in national parks Panna & Jim Corbett and
– peace and quiet in the mountain with view of the Himalayas.
Thank you for this beautiful and safe journey…